| | |
| --- | --- |
| Share Volume | 1891 |
| Forward P/E (1 Year) | N/A |
HYMC Stock: Momentum Summary
| | |
| --- | --- |
| Price | Higher |
| Volume | Lower |
| Technical Analysis | Sell |
| Google Trend | Higher |
HYMC Stock Forecast: Performance Chart
| | | | | | |
| --- | --- | --- | --- | --- | --- |
| Stock Name | 1 day | 5 day | 1 Month | 6 Month | 1 Year |
| HYMC Stock | +.88% | +5.94% | -19.55% | +137.78% | -53.07% |
HYMC Stock: CrowdWisdom360 Insights
HYMC has just announced change in their board of directors. Diane Garrett will remain as the President and CEO of the company. Stephen Lang will takeover as the Chair of Board of Directors, earlier held by Diane Garrett.
Sean Goodman, Executive Vice President and CFO of AMC Entertainment will also be joining the Board of Directors in HYMC.

How will the appointment of new Board of Directors affect HYMC's future performance?
HYMC Stock Forecast: Support and Resistance
HYMC Stock Forecast: Google Trends
HYMC Stock Forecast: Bull Case
World of Meme Stocks- The word "meme" stock was coined last year with cult like following of GameStop (GME) on the reddit platform. The list increased soon with Blackberry (BB), AMC Entertainment (AMC) and Bed, Bath and Beyond (BBY) being the later additions. Newest addition in the list is Hycroft Mining Corporation having seen a rise of 641.94 % in last one month. The meme stocks rally is becoming more sustainable lately as institutions and retail investors are learnings how to deal with these meme stocks and make profits out of them over a long term.
Equity Investment by AMC Entertainment Holdings and Eric Sprott-  Hycroft Mining Corporation got a private investment from AMC Entertainment Holdings Inc. AMC and Eric Sprott bought 22% equity stake in Hycroft with issuance of 46.8 million units, consisting of one common share and one share purchase warrant. The total investment amount comes out to be $55.9 million Apart from this, company also introduced at the Money equity program and completed the same on 28.3.2022. The company sold 89.5 million shares at an average price of $1.54 for a total value of $138.6 million. Combined with private placement from AMC and Eric Sprott, the total amount raised against equity dilution comes out to be $194.4 million. The total outstanding shares of HYMC as of today is 196.8 million shares.
Hycroft Mining has a great site in Northern Nevada- Hycroft Mining Holding Corporation has in hand a great mining site. It owns 71,000 acres of land in northern Nevada which has 15 million ounces of gold reserves and 600 million ounces of silver reserves. It faced lot of difficulties in past couple of years in mining due to liquidity constraints, but with the fresh injection of capital with equity placements, it will help company to approach mining with the fresh approach and latest technology. It will help to tap the potential of vast reserves and increase revenues and profitability in the coming quarters.
HYMC stock is trading at very cheap valuations- Hycroft Mining was at bankruptcy levels two weeks before and has seen a major turnaround in last two weeks. The major motivation of AMC Entertainments behind investment is that it is trading at very cheap valuations and sees a major upside potential ahead. Also as a surprise, the return on investment for AMC came very quickly than expected. In last five trading sessions, the HYMC stock is up by 76.92% and its market capitalization has increased from $19 million at the start of March to $250 million as of March 29, 2022. The stock is trading at $2.30 as of 31.3.2022 and can have major upside ahead as the trading volume is surging at all high levels of 160 million per day.
Russia- Ukraine War will keep the precious metals rates high – Hycroft Mining major business is gold and silver mining and higher prices of these precious metals is in the favor of company. In the present scenario, world is rocked by Russia- Ukraine prolonged war and it has affected commodity world across the globe. This war has created a panic and an environment of uncertainties which has propelled the prices of crude oil along with gold and silver and all other precious metals. In the time of war or more peculiarly times of uncertainties, stock market sees a sell off and commodity market sees fresh buying as they are considered safe investments. HYMC is kind of stock related to gold and silver mining and is surely going to get benefits from current global scenario.
HYMC Stock Forecast: Technical Chart
Also Read: AMC Stock Forecast
HYMC Stock Forecast: Latest Video
HYMC Stock: Latest Tweets
Originally tweeted by Tickeron (@Tickeron) on July 22, 2022.
$HYMC's Aroon indicator drops into Downtrend on July 11, 2022. View odds for this and other indicators: https://srnk.us/go/3854649 #HycroftMiningHolding #stockmarket #stock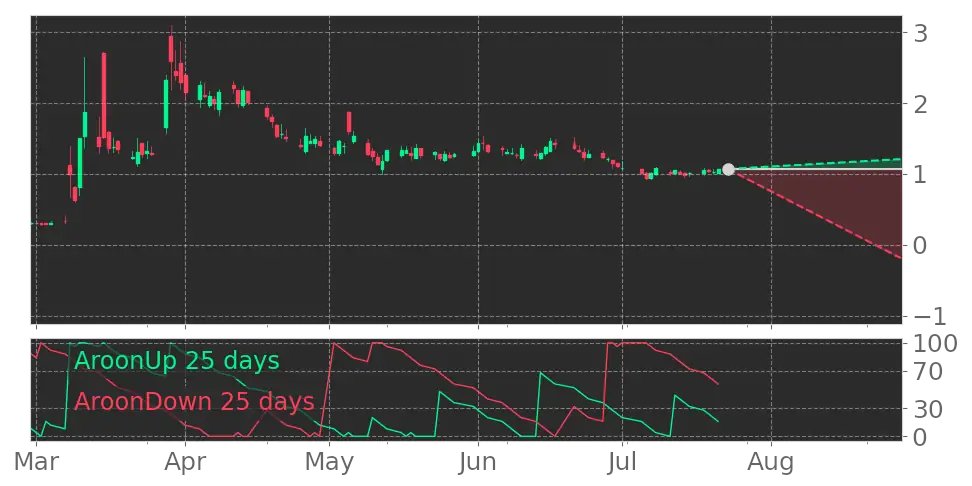 HYMC Stock Forecast: Bear Case
A company with poor fundamentals- A popular proverb in the stock market is that in the short term it is all about long and short positions of traders and in the long term it is all about company's financial strength. The current frenzy may quickly die if investors have a look at the balance sheet of the company. As a matter of fact, company has not made profit since 2013. It is a loss making company who direly needed cash and AMC Entertainments came to rescue it and nothing more than that. The recent gains by Hycroft will be sustainable only if company shows profit in upcoming quarters. The net income is in the range of $-29 million in last four quarters, which is not a healthy sign for the company.
Over-dilution by Hycroft Mining- For a start it is good that company raised $194.4 million to come out of bankruptcy, but has diluted its equity to a very large extend for the same. HYMC stock has now over 196 million shares outstanding in the market. Also, combining AMC Entertainment and recent ATM equity placement, company has lost over 60% hold over the company. A company's management should have greater equity hold over the company than other investor's positions. The same is not the case with HYMC and it is not a healthy sign for the company.
HYMC Stock Forecast: Conclusion
For a start, it appears that HYMC is out of the woods for a short term. Also it cannot be considered as a penny stock with the recent surge of more than 641 percent in last one month. Surely, the equity placement proceeds will be used for refinancing, reducing debt and extend repayment to 2027. It will also help in capital investment in the mining to increase revenue and profitability.
But all these are future prospects which does not resemble current position of the company. As of today, the fact is that, Hycroft mining has not turned a single penny of profit since 2013 and that is something which cannot be ignored before making an investment decision. All in all, HYMC stock is meant for meme and short term traders, who knows how to handle huge volatility driven by news and media, and not for long term investors looking at least till it improves its balance sheet.   
-Vineet Agarwal
Note: Crowdwisdom360 collates Predictions and data from all over the net and has no in-house view on the likely trends in the Stocks or Crypto Coins. Please consult a registered investment advisor to guide you on your financial decisions.